Events
An exciting opportunity to join our team......
Experienced Equine Vet required in rural Hertfordshire
Tyrrells Equine Clinic is a 6 vet-practice providing both ambulatory and clinic-based services. A friendly and supportive practice, we are seeking a dedicated team player with a positive outlook and high clinical standards. Situated in a beautiful rural location we are close to the town of Royston which has excellent transport links close to London, Cambridge and others.
As an independent practice our vets are free to make all clinical decisions as they see best and have the opportunity to follow up their own medical, orthopaedic and surgical cases as desired. Our purpose-built clinic has extensive facilities as well as a full range of modern diagnostic equipment including an objective gait analysis system. Experienced and qualified support and nursing staff are responsible for the management of our clinic and on hand to assist with clinical procedures, patient care and administration.
Special interests and further studies/career progression are encouraged and funded with great opportunities to learn from a variety of regularly visiting specialists. Rota is 1:5, with 22 days holiday plus bank holidays, competitive salary dependent on experience. Excellent long-term prospects for the right person. We are a fun, caring, close knit team who regularly socialise throughout the year and as a result are proud to have many long-standing employees.
For more information about our practice please call Annie for a chat on 01763 287744. To apply please send covering letter and CV to annie@tyrrells equine.co.uk
---
Past Events -
"What to look for when buying a horse?"
In November 2022 we held a client evening at Shuttleworth Equine centre themed around "What to look for when buying a horse".
The evening not only featured presentations from our vets but also live demos from equine development specialist Hanna Walton, international dressage rider Megan Ingham, Mark Evans farriery and Pippa Winkworth of Cambridge Veterinary Physiotherapy, helping to bring together a whole host of perspectives of what other industry professionals consider when looking at a horse to purchase.
This was our first in person event back after the pandemic and it was so great to see so many people there. Over 100 of you joined us for the evening to share a mulled wine and a mince pie while enjoying the insightful expertise of all our speakers and together we were able to raise lots of money to donate to the Ukrainian Equestrian Charity Foundation to help care for horse's that have been displaced by the conflict.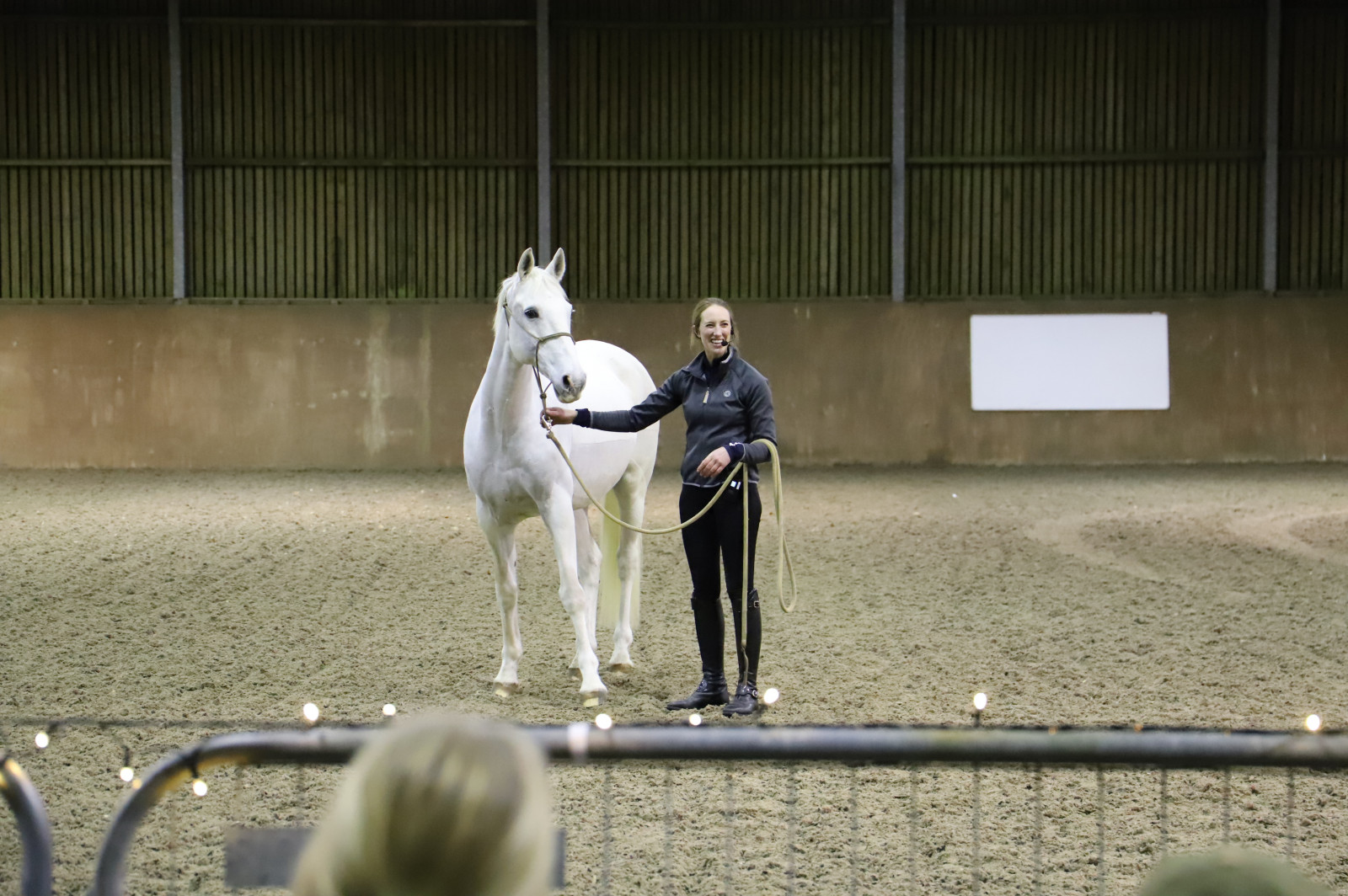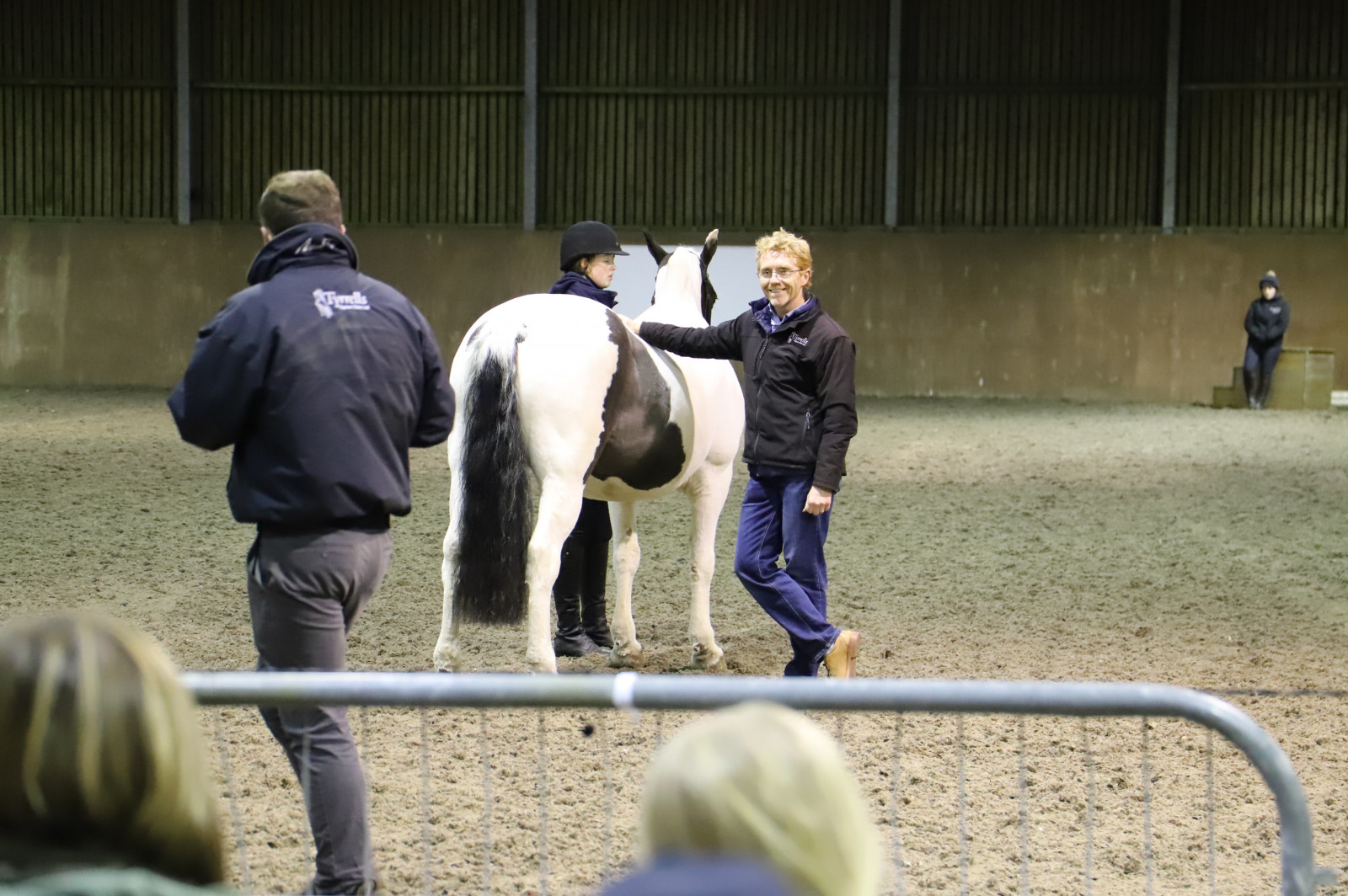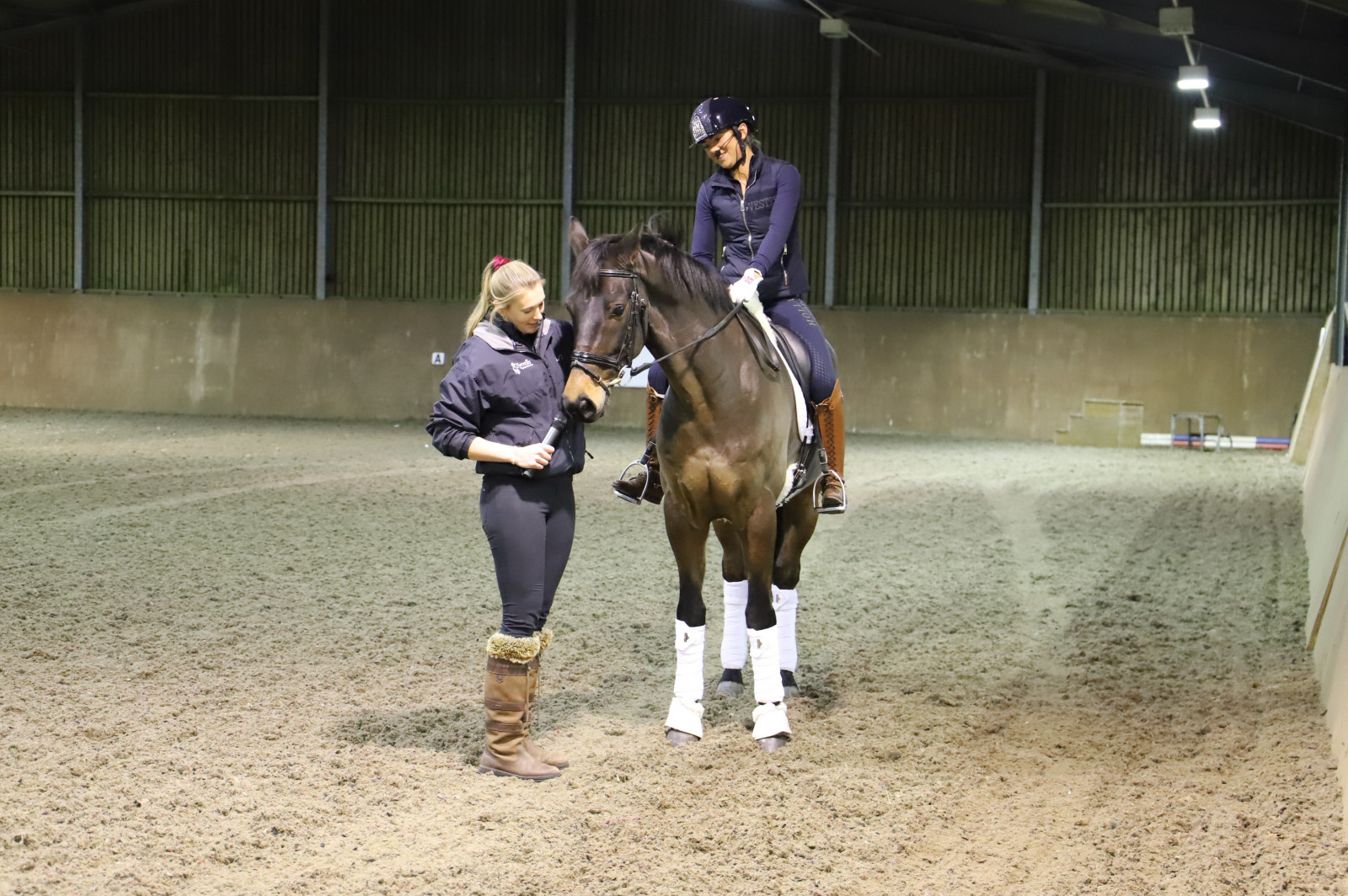 ---
Gastroscopy Clinic
On the mornings of the 30th November and the 1st December 2021 we offered the opportunity for our clients to have their horse's gastroscoped for a reduced price. It was a great opportunity for our fantastic vets Charlotte Fenn BVetMed MRCVS, Charlotte Ingham BVetMed (Hons) MRCVS and Oriol Obradors CertAVP MRCVS to spend sometime discussing the management of gastric ulcers with the clients who brought in their horses. The mornings proved very popular with our owners and although this we only had limited availability for these dates, keep your eyes peeled for potentially more in the future.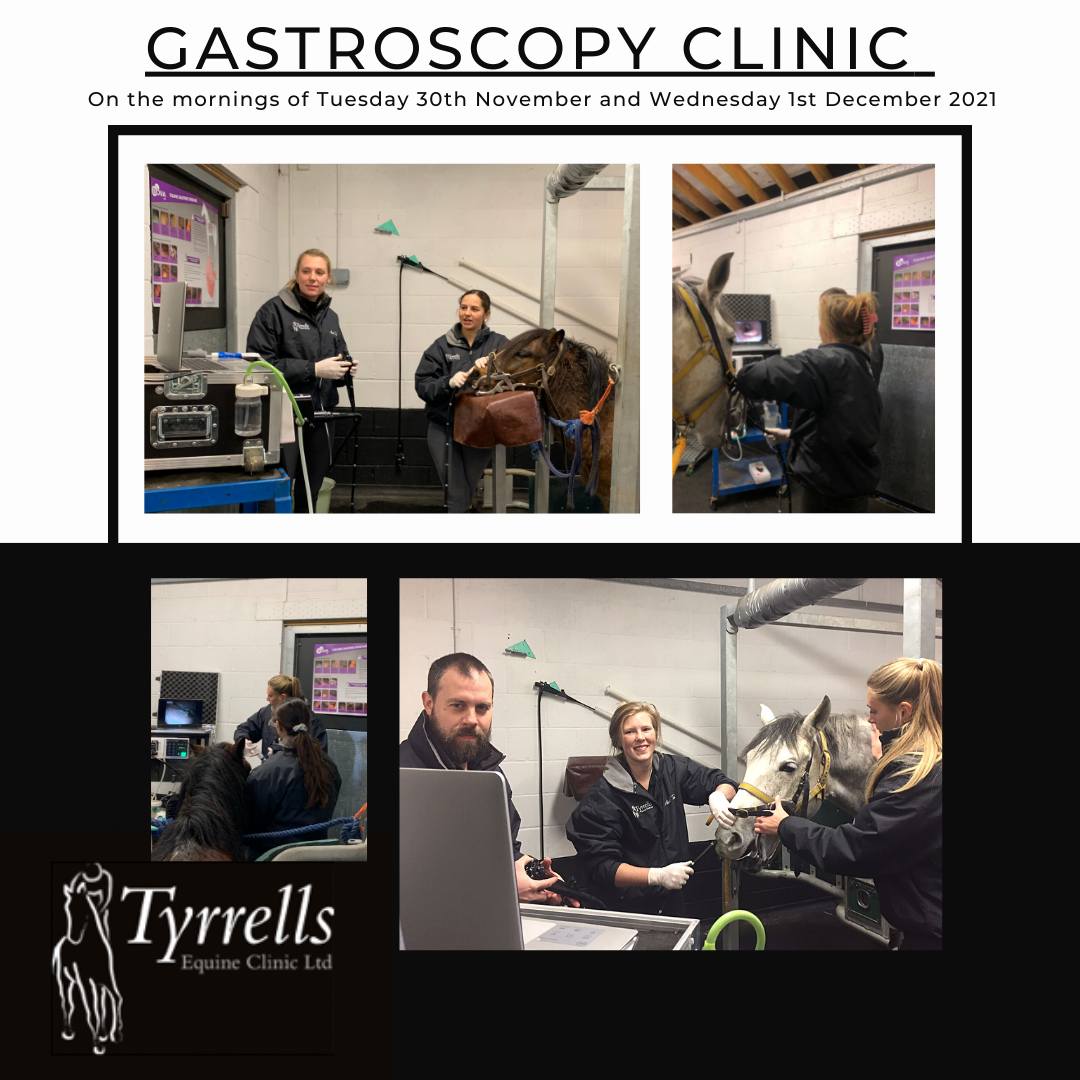 ---
Online Webinars
Due to the ongoing presence of COIVD-19 we have been unable to run any face to face client events for some time, however we have taken part in some online webinars in collaboration with Dengie Horse feeds.
Our vet Charlotte Ingham BVetMed (Hons), MRCVS put together a short presentation about feeding for gastric ulcers full of tips and tricks to do with the management of horses that may be affected by gastric ulceration. The full video can be found on YouTube and we will put a link below for anyone wishing to learn a bit more about managing these kinds of horses.
https://www.youtube.com/watch?v=CiFL3kHxZ3c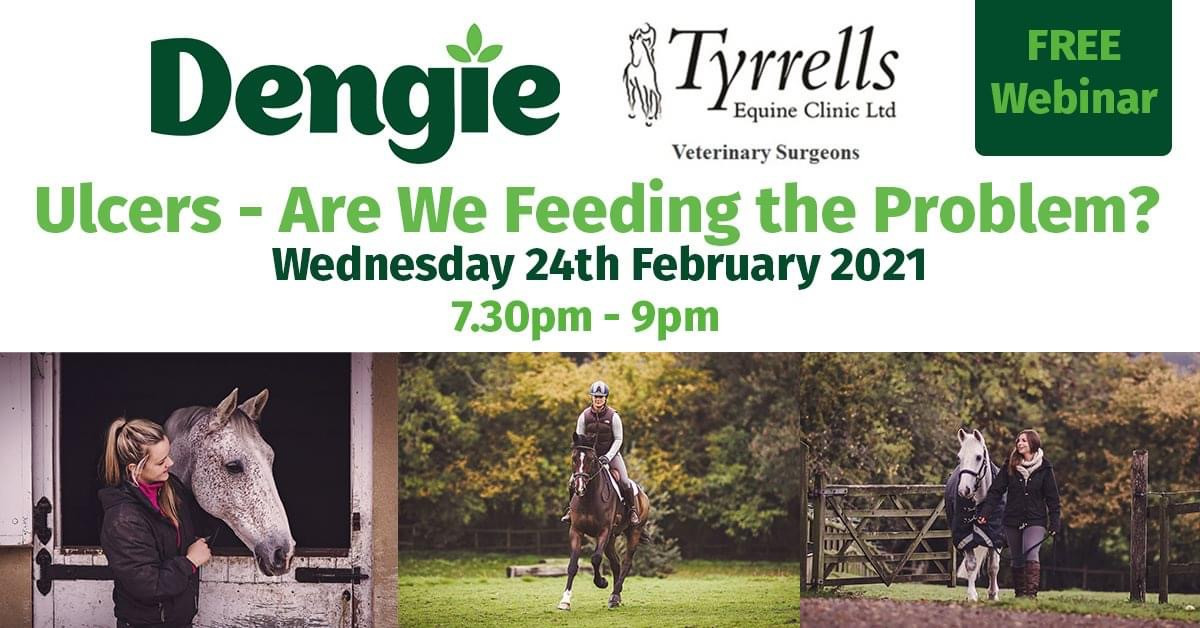 Shortly after that our principal vet, Jason Tyrrell BVSc, BAEDT, MRCVS, gave a presentation discussing how feeding can influence the management of dental issues in both young and older horses.The full video can be found on YouTube and we will put a link below for anyone wishing to learn a bit more about managing these kinds of horses.
https://www.youtube.com/watch?v=Q2eCDoYFTSs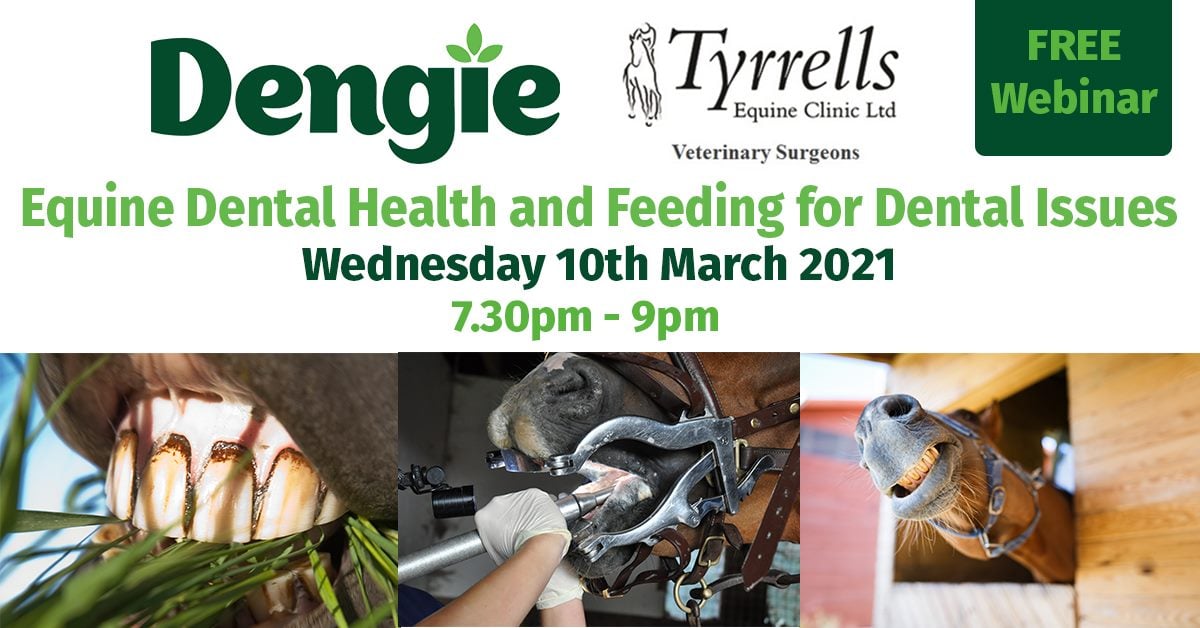 ---
Charity Equine Pub Quiz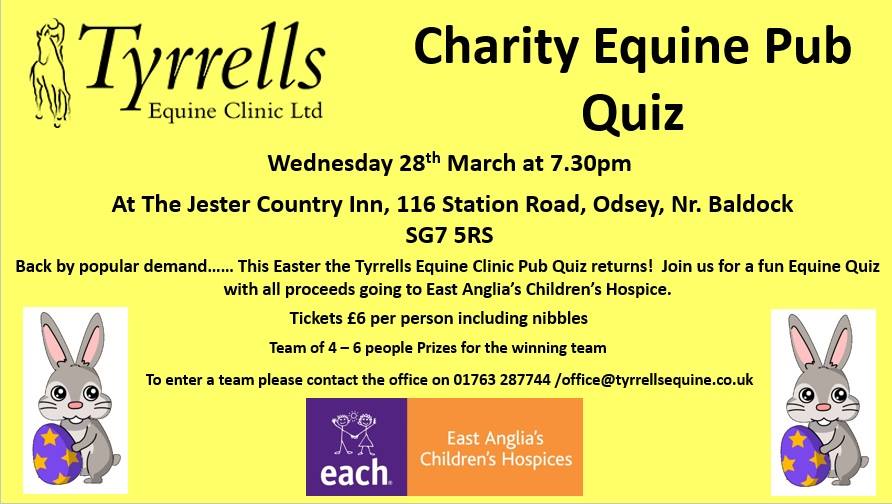 ---
Charity Equine Pub Quiz
Thursday 24th November see the return of our Charity Equine Pub Quiz........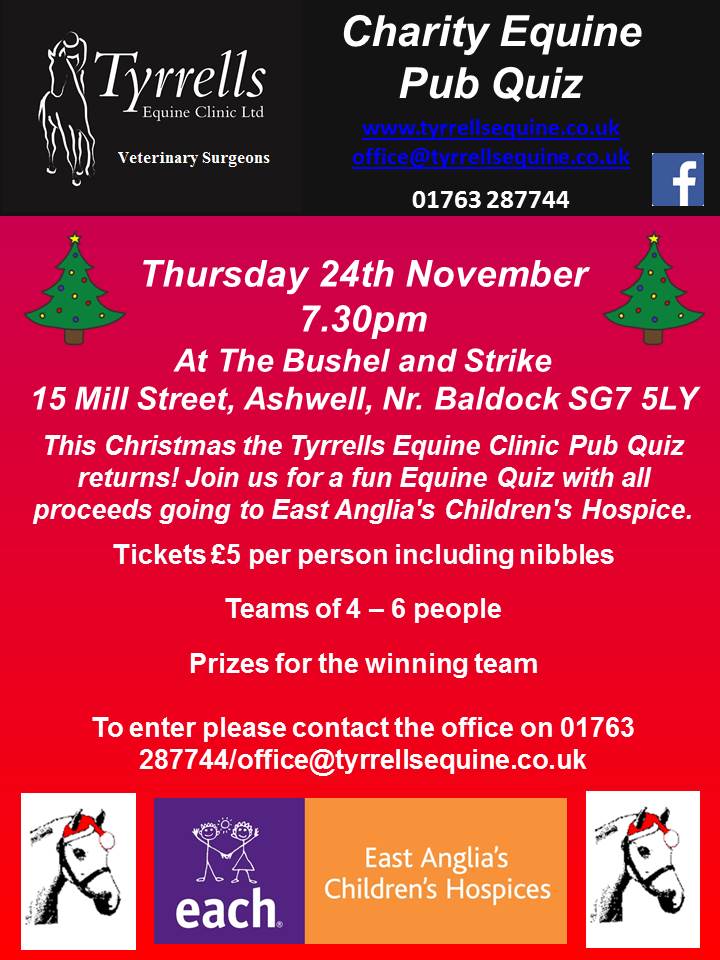 ---
Equine Fayre
On Saturday 14th May 2016 we hosted a charity fun day at our clinic. We enjoyed talks on saddle fitting from Martin Wilkinson, the equine digestive system from Jaime Finch from Dengie as well as demonstrations from our vets. The event raised over £400 for EACH (East Anglia's Children's Hospices). Many thanks to all those who attended. Here are a few pictures from the fun -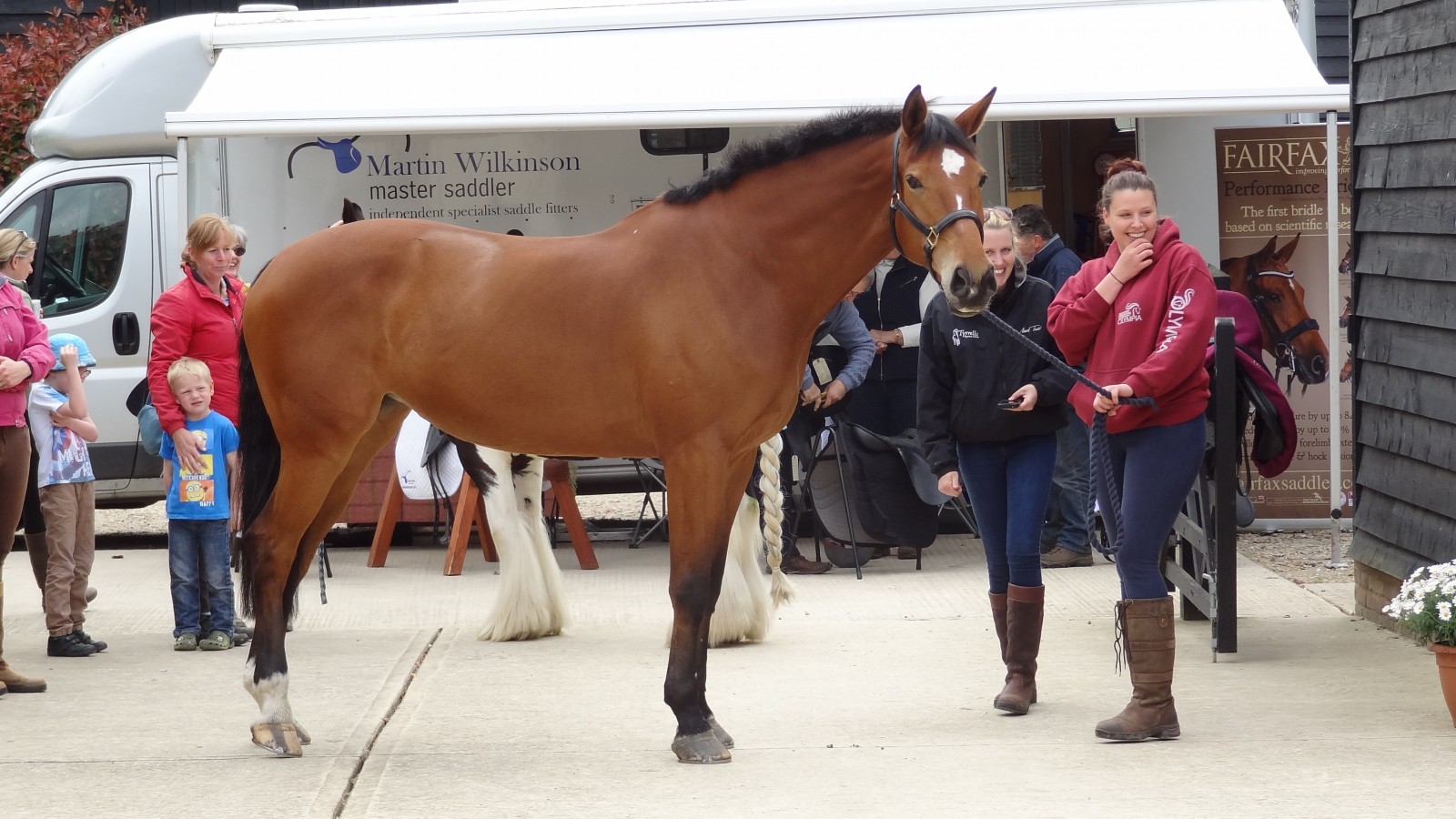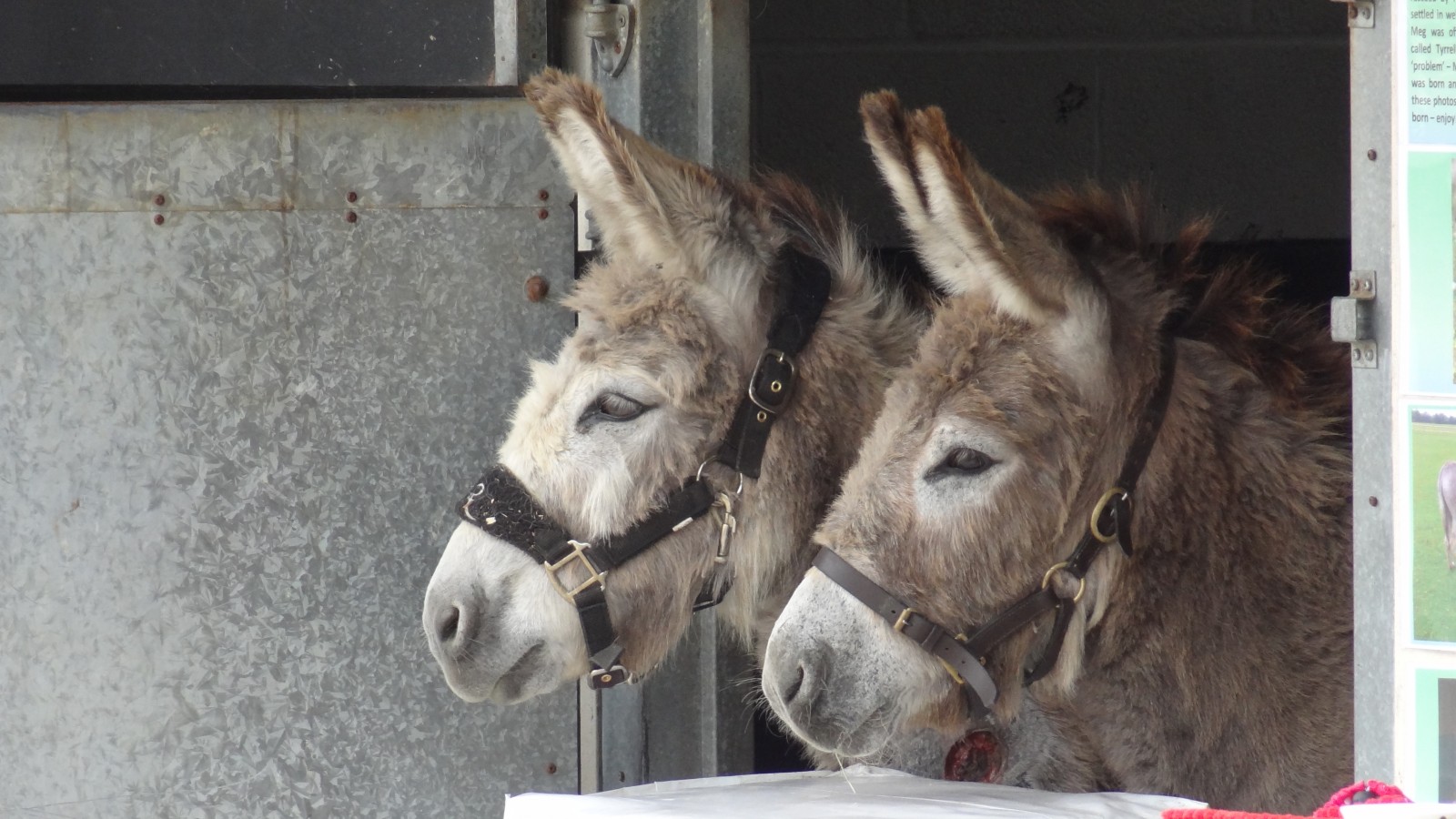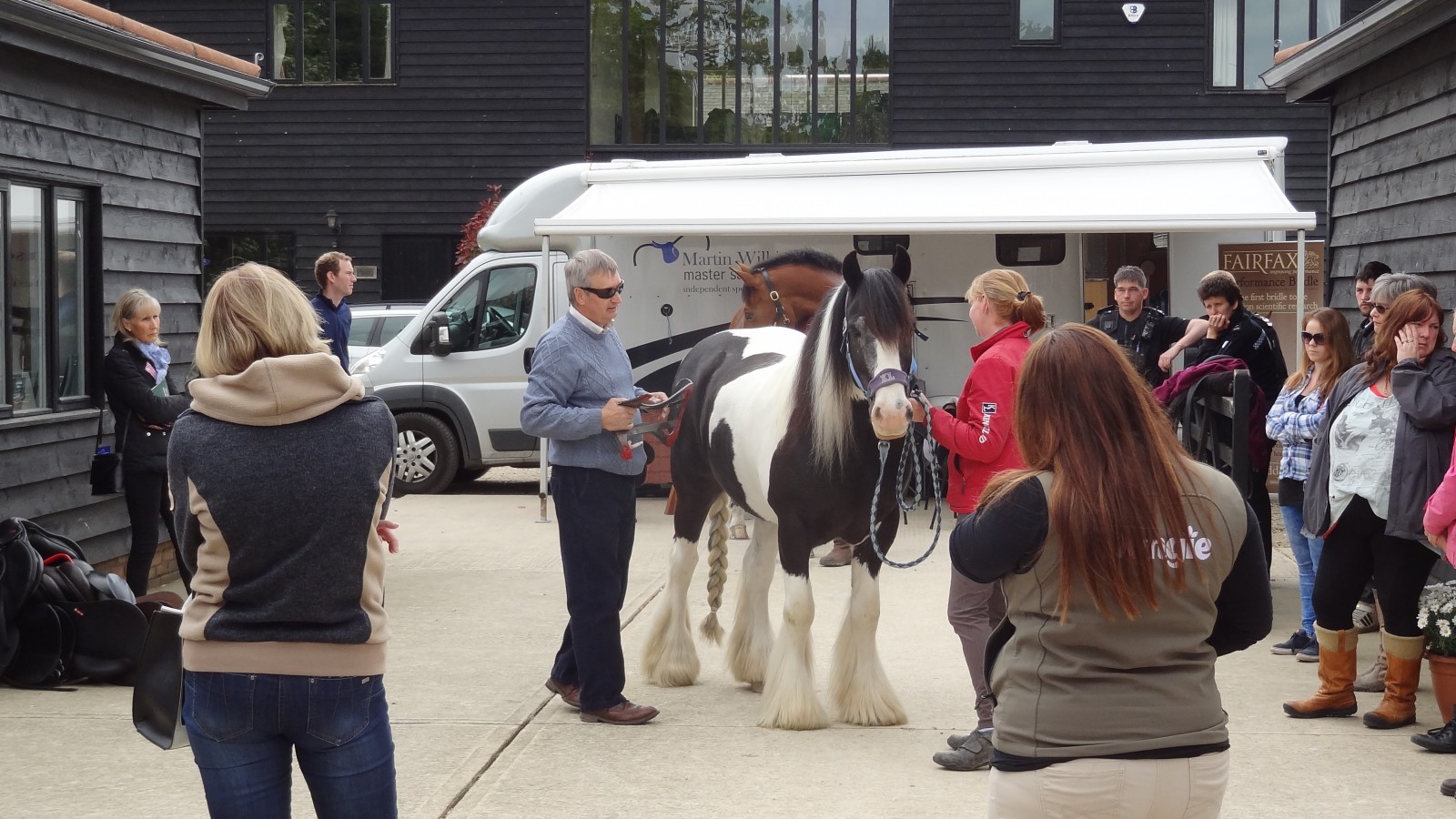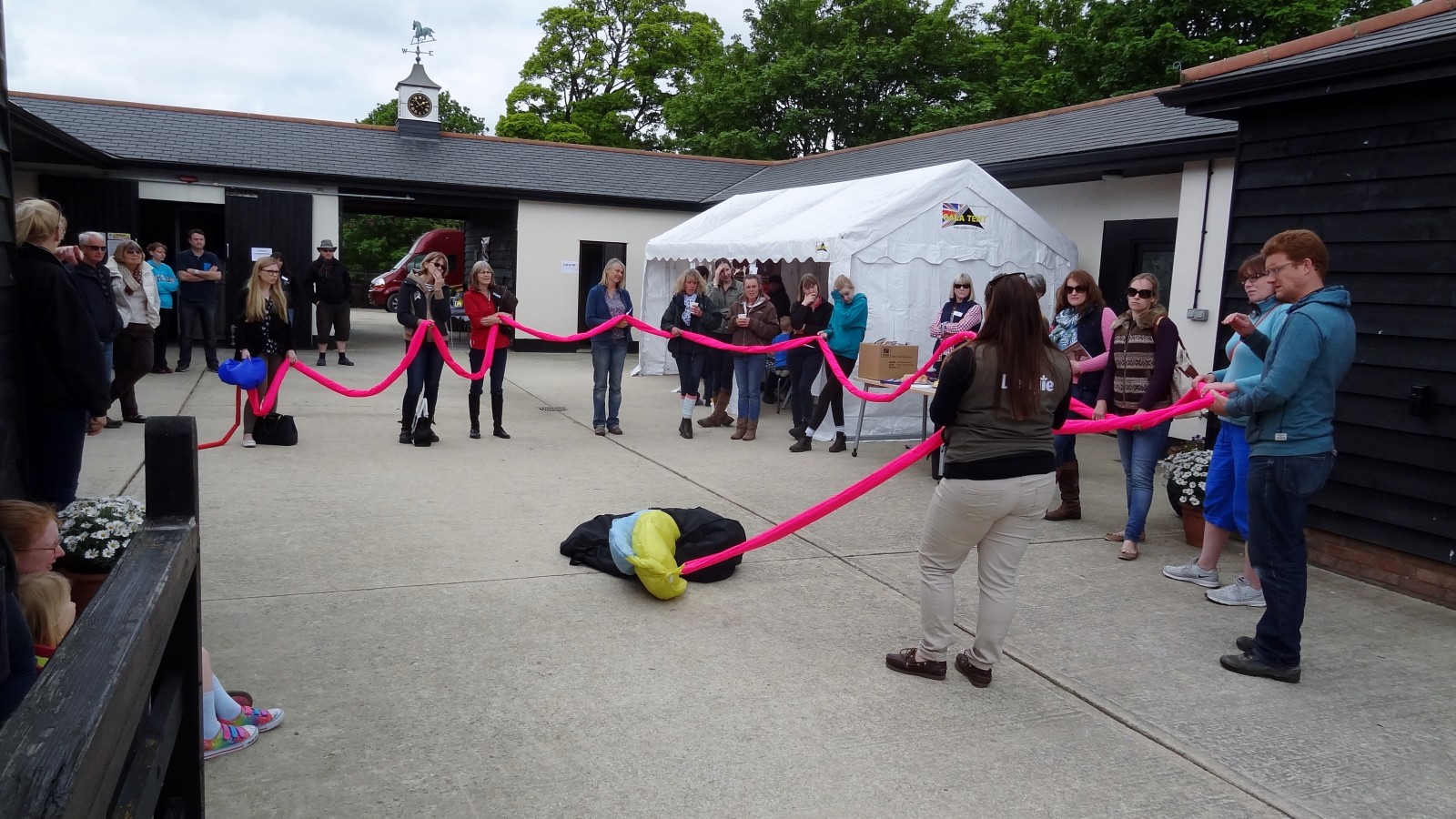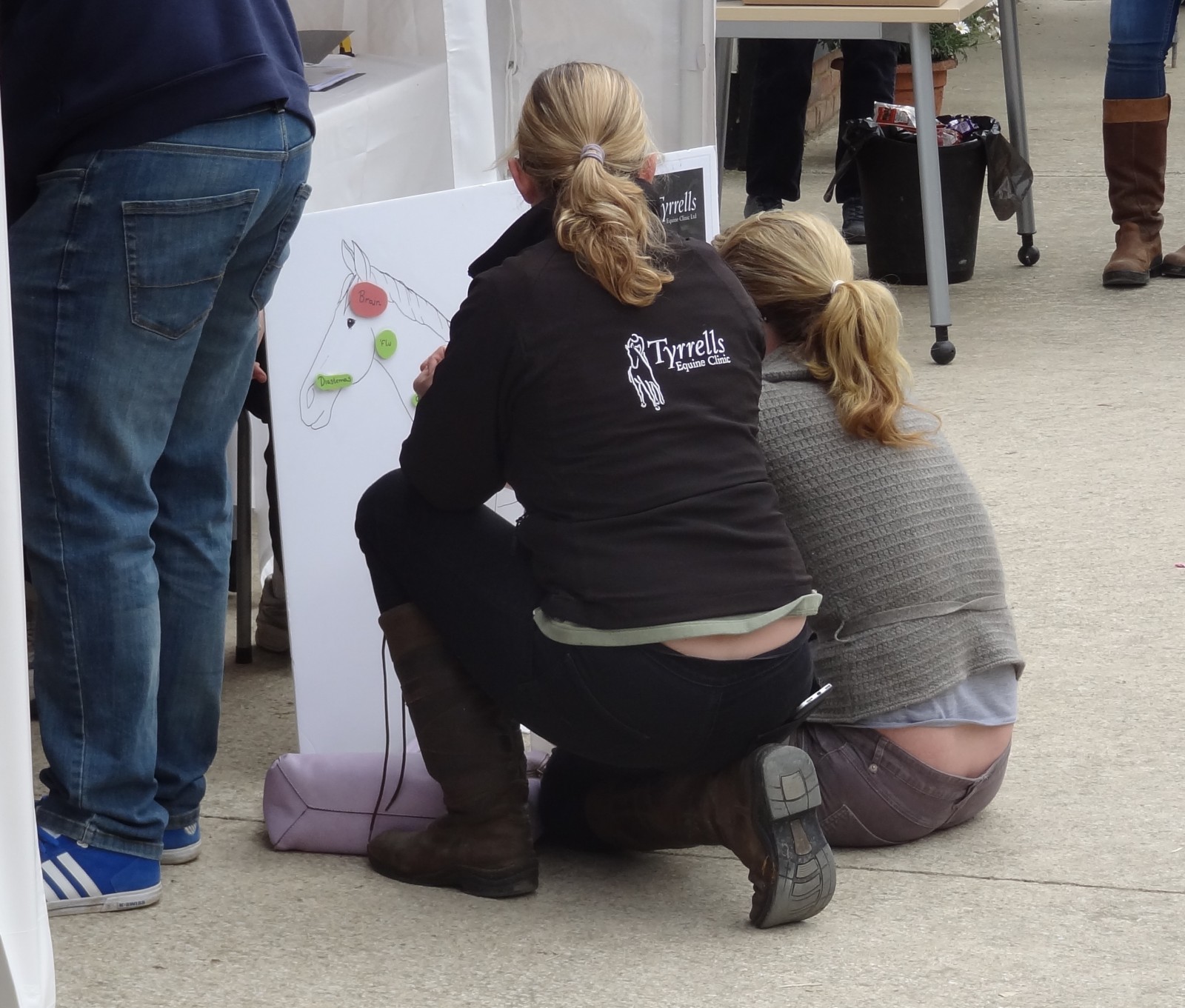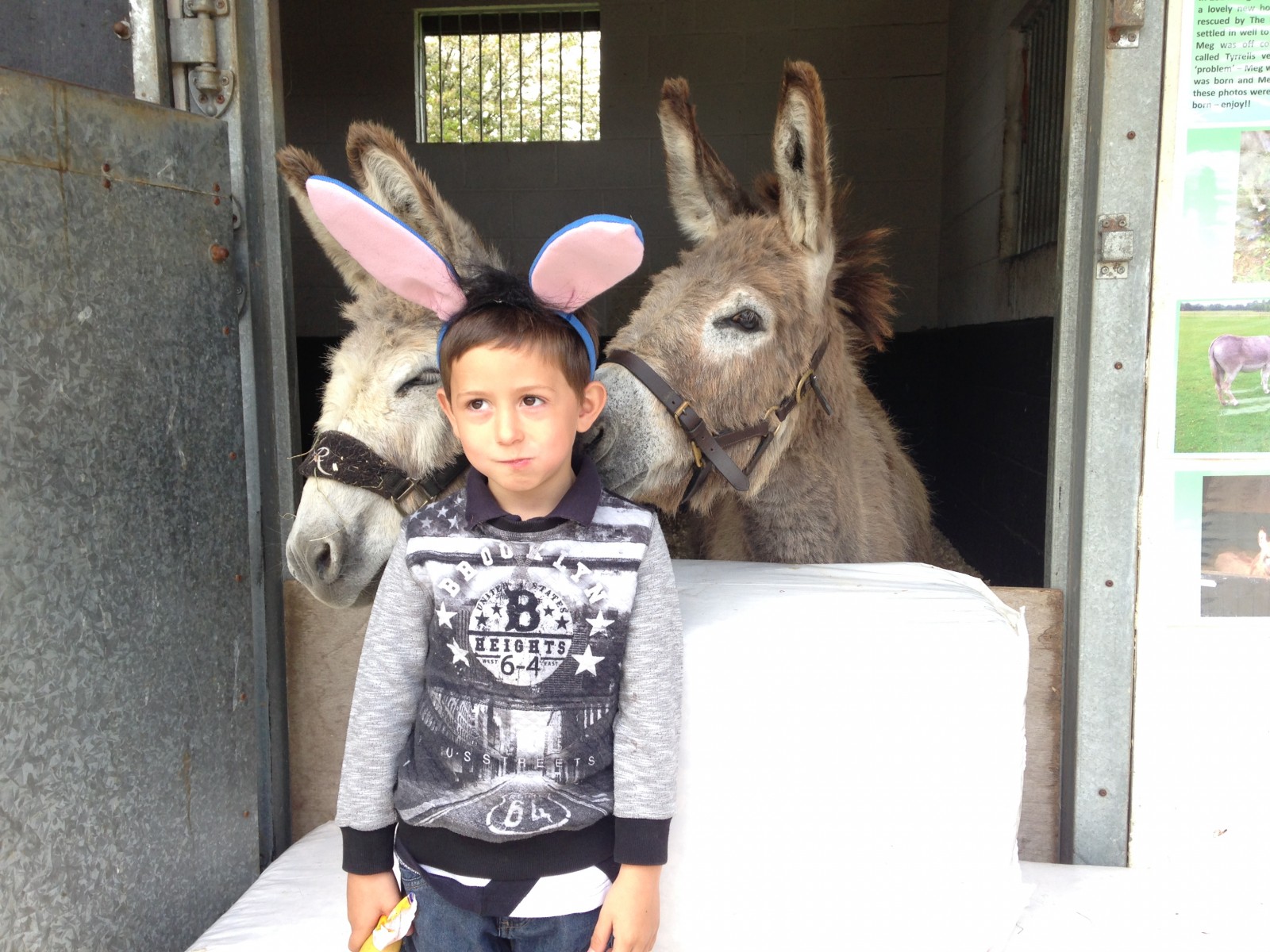 ---
Equine Flu Awareness Month and Vaccintion Amnesty
April 2016 is Equine Flu Awareness Month and as part of this Tyrrells Equine are pleased to be able to offer a Back on Track Vaccination amnesty. The amnesty will allow eligible horses to receive the first 2 vaccines in a course at half price (£19.50 inc.VAT per vaccine instead of £39).
Equine influenza or 'flu is a highly infectious viral disease which affects the respiratory tract. Symptoms include dry, harsh cough, nasal discharge and muscle soreness. 'Flu is a serious disease which can have a prolonged recovery time - in some cases recovery will take up to 6 months and it is recommended that all affected horses be given 6 weeks complete rest following an outbreak. To find out a more about vaccinating for Equine 'Flu and Tetanus see our factsheet.
For full terms and conditions please of the Back on Track Vaccination amnesty please click here. For further information or to book an appointment please contact our office on 01763 287744/ office@tyrrellsequine.co.uk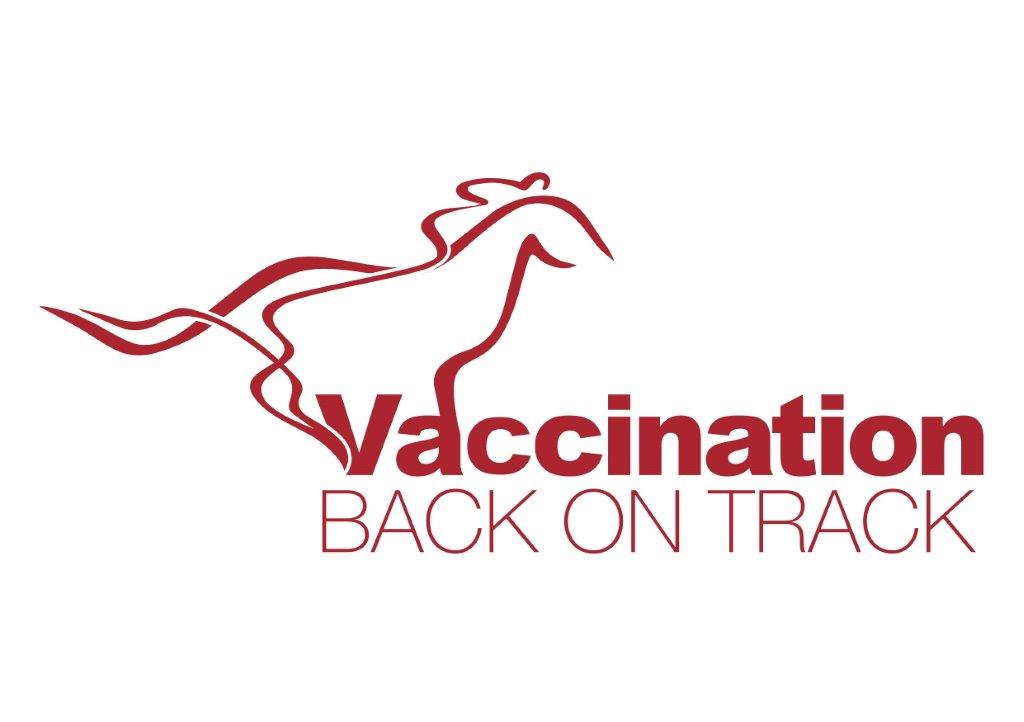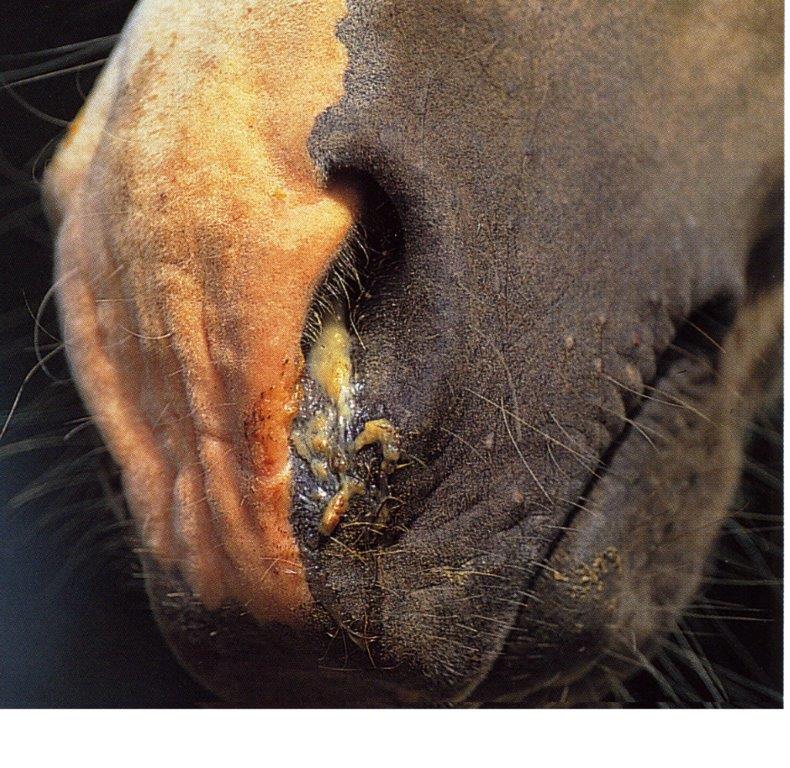 ---
Charity Collection
Throughout January 2016 we will be holding our annual collection for The Gambia Horse and Donkey Trust (GHBT). GHBT is a small charity dedicated to improving welfare of horses and donkeys in Gambia by providing education, veterinary clinics and equipment. We will be collecting pony/cob size headcollars, bits, numnahs, girths, fly masks and fluorescent items. Donations can be bought to the clinic or passed to a member of the Tyrrells team. For more information on the collection please contact the office on 01763 287744 / office@tyrrellsequine.co.uk
http://www.gambiahorseanddonkey.org.uk/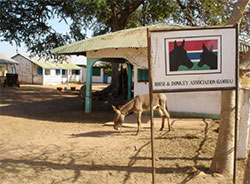 ---
Equine Charity Pub Quiz
Many thanks to all of you who came and supported our charity pub quiz and made it such a success. Held on Thursday the 28th November 2015 at The Bushel and Strike in Ashwell, the evening raised over £750 for East Anglia's Children's Hospices (EACH). Special thanks to those who kindly donated prizes including Stutley Equestrian, Contessa Riding Centre, Spillers Horse Feeds, The Equine Gift Company, Farm & Stable Supplies and The Bushel and Strike.
And finally congratulations to our winning team 'The Knackered Neddies 2'!